2022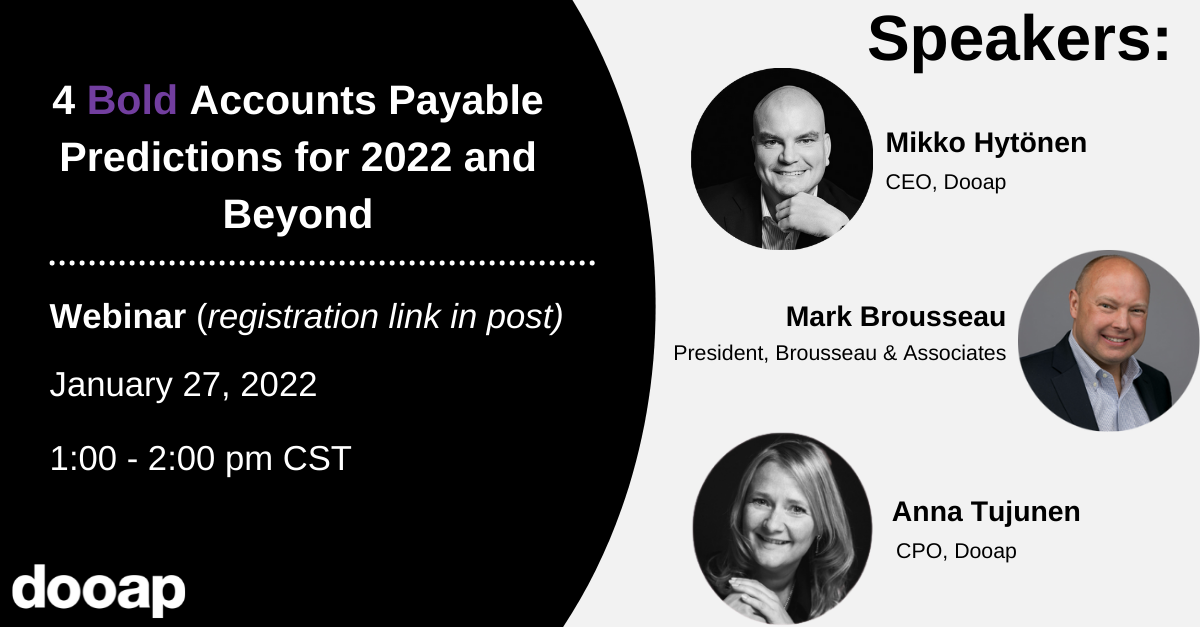 Thursday, January 27, 1 PM CST
4 Bold Accounts Payable Predictions for 2022 and Beyond
WebinarMicrosoft Dynamics 365Accounts Payable AutomationTrends
We've reached that time of year when people pause, reflect and try to predict the future. What will 2022 bring for accounts payable? Well, if there's one sure thing we've learned over the past two years, it's that there are no sure things. But after checking with a Magic 8 Ball, the horoscope in our daily newspaper, a tarot card reader … and three of the top minds in accounts payable … there are four trends that we firmly believe will have the biggest impact on accounts payable in the new year.
Join us for this webinar as three industry experts share their predictions for accounts payable in 2022 and provide actionable advice for how accounts payable leaders can get ahead of what's coming. Want to know what your peers are planning for next year? The webinar will include live polling on the trends accounts payable leaders believe will impact their operations and how they are preparing.
What you will learn:
Four bold predictions for accounts payable that even Nostradamus would love
Resolutions that every accounts payable leader should keep
Why the ball may finally be falling on paper invoices in the United States
Speakers:
Anna Tujunen
Mikko Hytönen
Mark Brousseau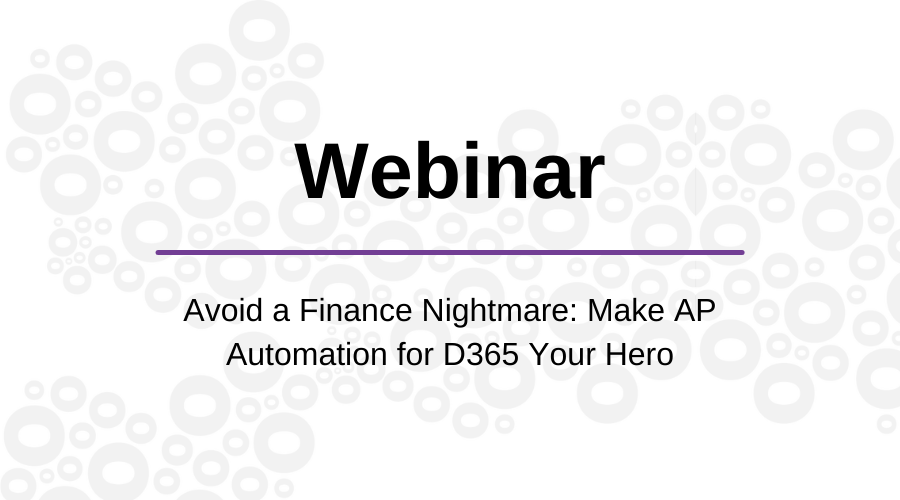 Thursday, March 31, 8 AM CST
Avoid a Finance Nightmare: Make AP Automation for D365 Your Hero
WebinarMicrosoft Dynamics 365Accounts Payable Automation
Accounts Payable is one of the highest stake tasks in finance but has problems and issues that are enough to give a senior specialist a headache.

Meet Dave. He's the Senior Finance Manager at a mid-market, multi-location organization and spends most of his time putting out finance fires. Daily, at least half of his 10-member team struggles with missed payments, unused cash discounts, and misplaced or lost invoices, and these challenges continue to become a significant bottleneck to business success.

He dreams of an efficient procure-to-pay process. Dreams of a day where his associates will perform error-free tasks, meet aggressive timelines, and will still have enough productive hours to think strategy. A solution that helps optimize back-office operations, prepare for sales seasonality, enables digital invoices, manages recurring expenses and cash flow to improve visibility and transparency, allowing leadership to make informed decisions.

Enter Captain Finance. He comes from the future and brings technology that can not only tackle the existing challenges but also support future growth for organizations.

Join us, as we unfold the story of many managers like Dave and how they leverage the superpower of AP Automation to bring sustainability and scalability to business.

In this webinar, our super-heroes cover:
• The changing industry landscape and the need for accounts payable automation solution
• A holistic view of accounts payable in key industries like retail, manufacturing, construction and project services, etc.
• A real-time demo showcasing how Dooap's AP Automation and Microsoft Dynamics 365 Finance can successfully address key multi-location challenges
• Deep dive into the benefits of a smooth Microsoft Dynamics 365 Finance and AP automation integration

We want you to become a champion of truth, justice, and profitability in your organization.
Join us on March 31, 2022 at 3 different times: 9:00 am CST, 12:00 PM CST, or 3:00 pm CST! Looking forward to you joining us.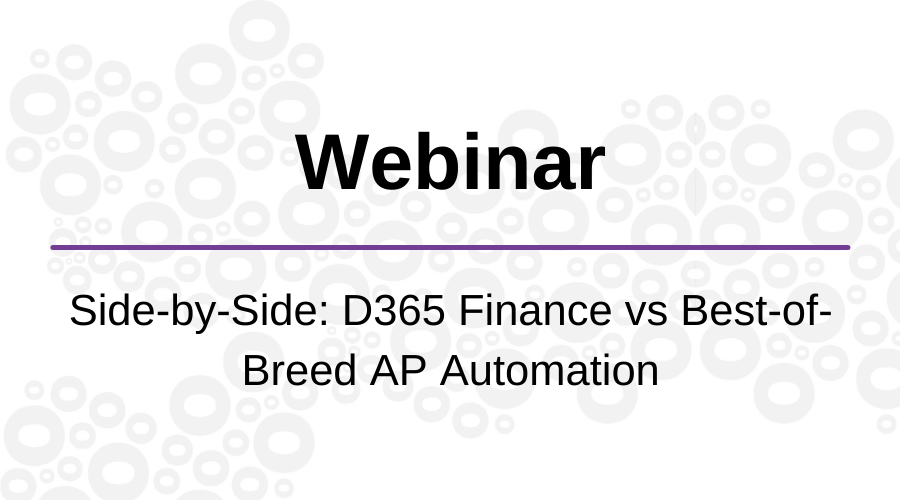 Wednesday, June 8, 8 AM CST
Side-by-Side: D365 Finance vs Best-of-Breed AP Automation
WebinarMicrosoft Dynamics 365Accounts Payable Automation
Microsoft Dynamics 365 Finance now offers a limited set of features for vendor invoice automation. While users can get the basics of AP automation with these standard features, can they get the same ROI from these features as they can from an integrated best-of-class AP solution?
"As an AP automation ISV, of course you say it's impossible," you might think. So, join us in this webinar to decide for yourself. To make the comparison, we will show you a set of the most common use cases both in D365 and Dooap.
In this webinar, Dooap's Chief Product Officer, Anna Tujunen, will:
Demonstrate how AP automation works with D365 standard features compared to a full-featured AP solution

Consider each solution from a process efficiency perspective and feature set

Point out the considerations regarding onboarding and maintainability
2021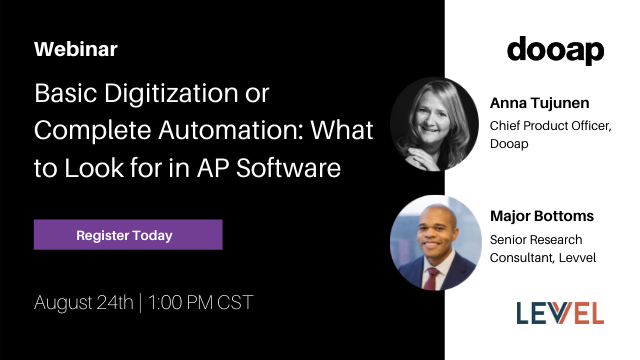 Tuesday, August 24, 1 PM CST
Webinar: Basic Digitization or Complete Automation: What to Look for in AP Software
WebinarMicrosoft Dynamics 365Accounts Payable Automation
With many departments operating remotely, AP software has been put to the test. For those using a leading tool, the transition should be seamless and uninterrupted. Still, many organizations are discovering whether their tool truly automates AP or merely digitizes it. Join AP automation provider Dooap and industry expert Levvel Research to learn what to prioritize in a solution and what true AP automation looks like.

Tuesday, October 12, 1 PM CST
Dooap at Dynamic Communities Community Summit 2021
Live EventMicrosoft Dynamics 365Accounts Payable AutomationTrends
We're so excited to be participating in Dynamic Communities Community Summit North America this year as a Platinum Exhibitor. You'll find us at booth #407. Make sure to stop by to say hi and catch our Partner Showcase where we'll dive into the transformation one of our clients has experienced since adopting Dooap's complete AP automation solution. We hope to see you in Houston, TX from October 12-15th.