2021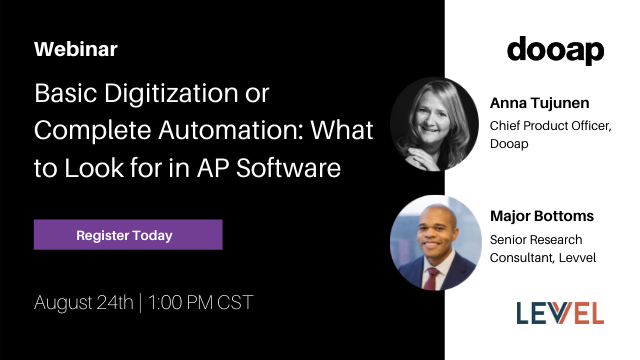 Tuesday, August 24, 1 PM CST
Webinar: Basic Digitization or Complete Automation: What to Look for in AP Software
WebinarMicrosoft Dynamics 365Accounts Payable Automation
With many departments operating remotely, AP software has been put to the test. For those using a leading tool, the transition should be seamless and uninterrupted. Still, many organizations are discovering whether their tool truly automates AP or merely digitizes it. Join AP automation provider Dooap and industry expert Levvel Research to learn what to prioritize in a solution and what true AP automation looks like.

Tuesday, October 12, 1 PM CST
Dooap at Dynamic Communities Community Summit 2021
Live EventMicrosoft Dynamics 365Accounts Payable AutomationTrends
We're so excited to be participating in Dynamic Communities Community Summit North America this year as a Platinum Exhibitor. You'll find us at booth #407. Make sure to stop by to say hi and catch our Partner Showcase where we'll dive into the transformation one of our clients has experienced since adopting Dooap's complete AP automation solution. We hope to see you in Houston, TX from October 12-15th.